Yes!!! I've finally found my FITNESS MOJO
I was on a hiatus for awhile and tried multiple times to make a comeback…so I do promise you more than one blog post a month!
A short discussion with fellow blogger, Kelsey,  put me at ease after discussing how blogging made us feel. I started to get busy with work, school and fostering.
I basically put blogging on the back burner, but then I realized I'm happier when I blog.
Blogging is my outlet from everyday stress and it puts a smile on my face.
So what's new??
March/April Fitness:
We're in the second month of Boot Camp…still loving it most days when I'm not running hills. I've got a good trainer and great support from coworkers.
I've lost weight in pounds and inches everywhere
I have more energy
I can now workout with 10-15 lb dumbells
I recently made the decision to start running again
Let's not talk about food, it's been the same boring eats every week. No new recipes have been cooked. Maybe just maybe that will change in a few months.
I'm happy to be back in my fitness zone and look forward to sharing more of my everyday life with my readers.
March: Spur of the moment I decided to jump on the bandwagon and become a foster to a shelter dog!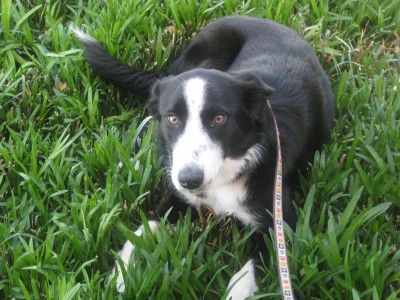 I named her Bailey and fell in love with her the moment I scooped her out of the shelter, working with Harbored Souls Rescue, in the Ft. Worth area. I was browsing PAWSITIVELY Texas and saw Karen from HSR, needing a foster for a young collie.
We also wanted to see how Missy would feel about another dog in the home because we'd like a second pet & playmate for her.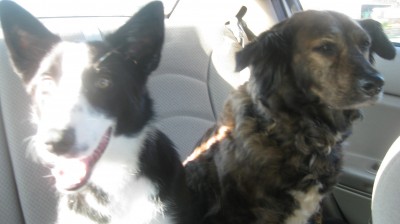 (Bailey loved Missy, but Missy wasn't feeling her just yet)
Pro's:
Gave a sweet dog a second chance (she was a stray found by Dallas Animal Services)
learned to walk two dogs on  a leash
Missy had a temp playmate
Inspired two friends to adopt from rescue and another friend adopted from their local shelter!
Fulfilled a long time goal of rescuing dogs and finding forever homes
Cons:
Missy was so jealous and it took her awhile to warm up to Bailey.
Attachment!  Fell in love after 2 weeks with BAILEY…balled my eyes out after meeting the third family but I knew they were perfect for her!
Probably drove FACEBOOK friends crazy with posts about dogs needing fosters and rescuing a furry friend. lol
In the end, my cons are not really bad.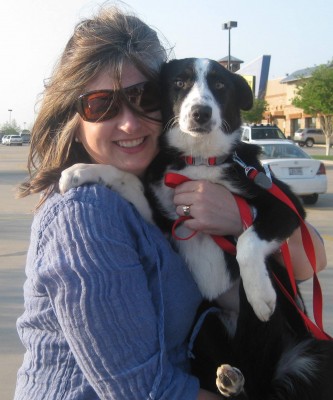 (Bailey and her new Mom )
What's new with you, what have I missed?
Related posts: