Quick Fix is what I like when it comes to a meal. I'm trying to do "meal planning" for the week, we shall see how that works out!  Chris and I went for a walk tonight; 2.39 miles to be exact.  I stress 2.39 miles because he kept teasing me saying " Just Say 2.4"
I was definitely tired after our walk around the neighborhood too.  I made a small batch of spaghetti for us to eat in between watching Big Brother and House Hunters.  Right now there is no food in the house; desperately need to go shopping tomorrow!!  This meal took me 30 minutes to prepare and it was delicious.  Plus my meal was obtained from the Dollar Store (most parts: canned pasta and frozen veggies)  Yes, I love a bargain!  The bf didn't realize there was no meat till after I started laughing!!
Convo:
Boyfriend: Is there meat balls in here or chicken? (I cook with ground turkey mainly)

Nicci: "No, what? huh?!"
Boyfriend: "oh, (sad face) okay"
Nicci: "Uhmm, what are you talking about?!"

I didn't understand at first why he asked that…duh! (blonde moment) cauliflower was smothered in sauce!  Apparently it looked like chicken.
I SEE FOOD!!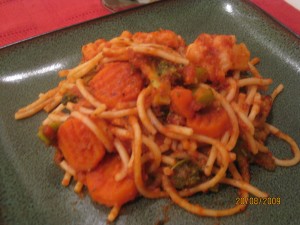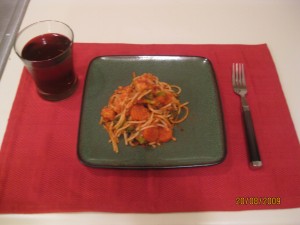 Look Ma! No Meat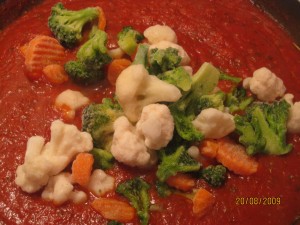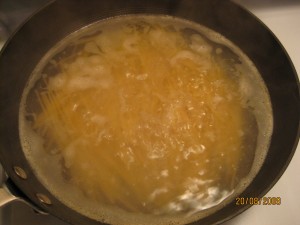 Finally I'm off to bed.  I have enjoyed playing around all week with this new web page of my very own.  I was so scared to self-host but I'm loving it a lot! When it comes down to my readers (the few I have). I tell myself  "It's Quality, not Quantity".
Good Night
Related posts: