Sunday Football Mania is upon us, but Chris is going  out w/ his friends to watch the Cowboys.  I'll be resting, cleaning, watching movies & going to my Mothers.
I started my Sunday Morning with Greek yogurt, Pineapple chunks and Peace granola.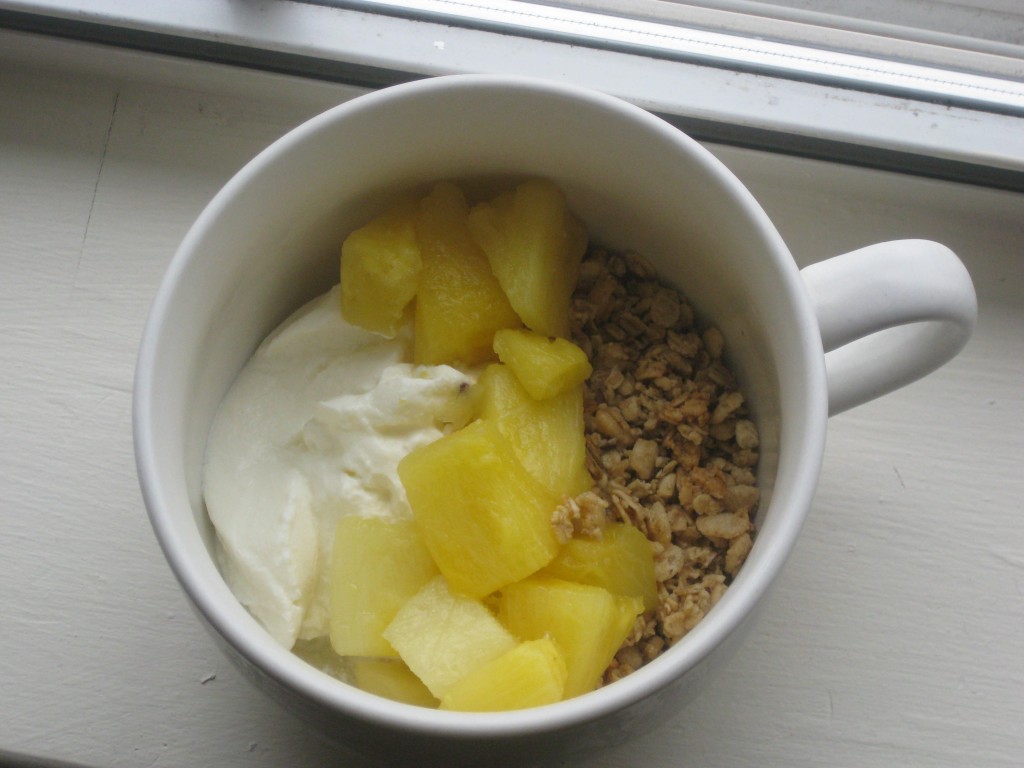 It's still raining cats & dogs but I wanted something tropical and sweet.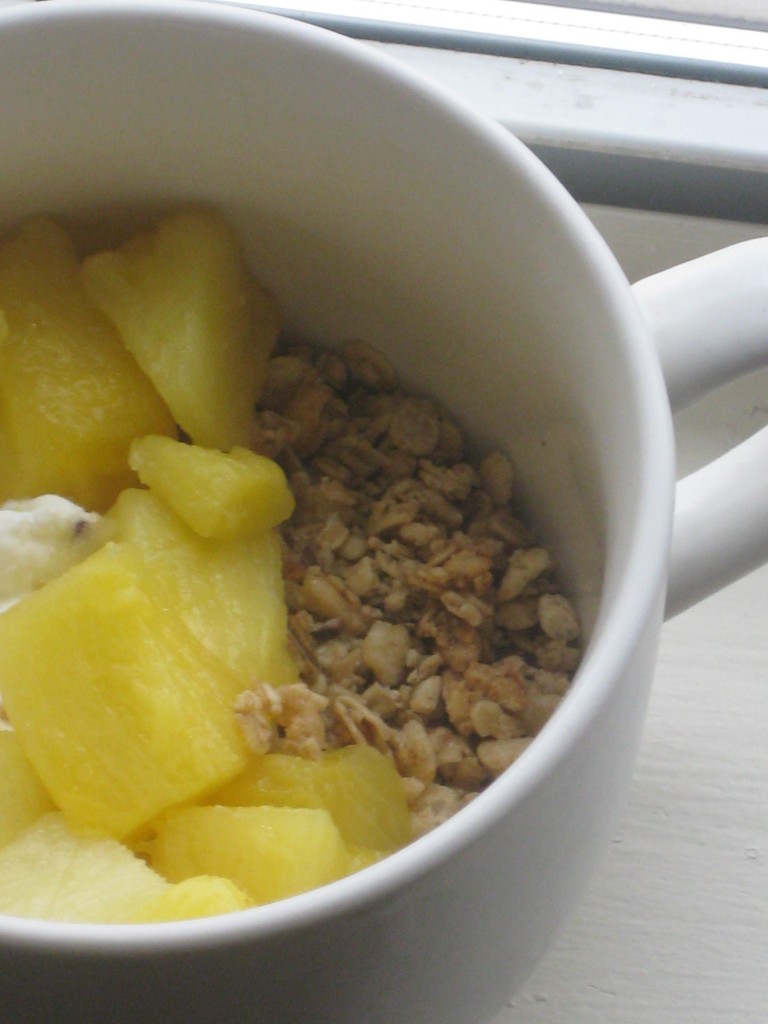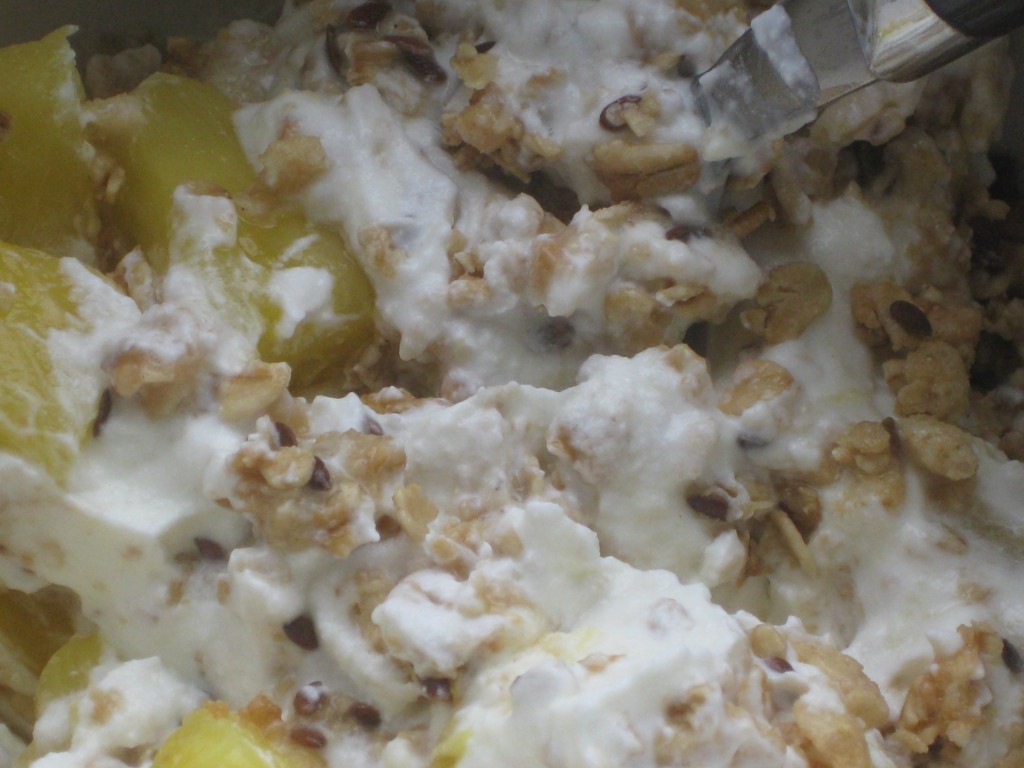 Yummy
Jocelyn over at Jocelyn Eats Fresh sent me a blog award so stop by her page and give her a shout out. I enjoy reading her blog and her dedication to living a healthy life!
I'm not a selfish person so I have to pass this blog award on to other readers that I've come across & enjoy reading.  Keep in mind, I do read 50+ blogs, but I'm going to pass it on to 12 people for now!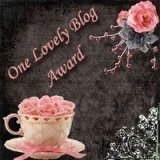 1. Kaytee Says Eat- Kaytee and I came across each other through the HLS live stream and she is a local blogger in my area.
I like her outlook on "Finding a Healthy Balance and Redefining the "good stuff".  I'm learning about some great places to eat in the area too.  Blogger Meet Up coming soon!!
2. Highway to Health- Pam is a Boston blogger, who is documenting her life as she trains for the Main Coast 1/2 Marathon. I like seeing what healthy recipes she comes up with.
3.Itzy's Kitchen- Erica teaches Body Step and Body Attack, she is dedicated to her fitness and is always cooking up something tasty.  I'm always envious of her great looking cantaloupe.
4. Skinny Menny- Menden is new to my reader and I wish I had found her a long time ago, she is full of energy and and always on the go.  I like her outlook on taking chances in life.
5. LePetite Athlete- Courtney is also full of energy too, she believes in "listening and loving your body", and is always posting something new whether it's a meal or info on fitness.
6. IrunIsweat- Whitney runs and sweats…Woohoo!!  I know I like to sweat it out too. She just finished a half marathon yesterday! She makes me laugh b/c she does not sugar coat anything. My favorite phrase to say "Keep It Real" and she does just that.
7. LilVeggiePatch -Katie's blog started off on blogger.com.  Lil Veggie Patch was one of the first blogs I found! No matter where she goes, Minnesota or New York I know I'm going to find some new foods I haven't heard of or tried.
8. Dancing In MyNuddy Pants- Allie is a hard worker and inspiration to me to keep going with the fitness.  One day I want to dance in my nuddy pants too! Check her out to learn all about her Nifty blog name…great story!
9. LiveLoveEatandPlay- Morgan is looking to find balance between healthy eating, healthy exercising, healthy relationships, yummy food and her sanity. She is also new to my Reader, can't wait to read more!
10. HealthyAshley- Ashley became a vegetarian in 2001 and has a great blog and is in love with running, also training for a full marathon. I like to leave the Reader and visit her actual page to read those Commandments she has up. I try to apply then weekly.
11. Food Junkie- Jamie is encouraging, she pushes through and works out and keeps going. I read her and think she is a tough cookie! I wish you lived closer to me, to motivate me when I don't want to workout.
12. Lesley Living Life- Lesley is very sweet,  I have learned so many new things about "clean eating" from her.  I like that she also "lifts", one thing I like to do and think everyone girl should try!
Check my BlogRoll and Comments for some other lovely ladies dedicated to Living a healthy Lifestyle.
No related posts.