Let's Blog:   I would have to  say the most obvious goal for May, would be to blog more! I've missed blogging more than anything and you would think with the amount of time spent on the computer (home and work) I'd be blogging more. I think by the time I get off work…I get lazy and too into the countless shows I feel the need to watch on my dvr. Chris likes to call my TV shows "trash"…a.k.a reality TV.
Drink Up Girl:   Definitely less drinking cocktails (sorry friends) and more drinking water. I've been guzzling H2O like crazy in the past couple days, feeling dehydrated but now I'm all good.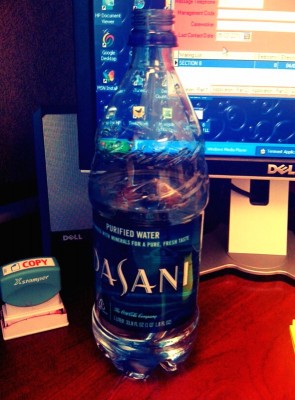 1-2-3 Fit:   Oh, how I've missed getting sweaty and having a daily stress reliever. I'm committing to getting back on track in that department as well and not giving myself three rest days that seemed to want to turn into five. Oops!  The top two exciting events happening in Fitness for me would be an upcoming 5k with another blogger and joining a summer softball team Ms. Trinity and Kristin have put together!! Softball season will start in June, so I need to hit the batting cages…Lord knows I can't hit a ball.
Here's some delicious Vegetarian eating from the weekend: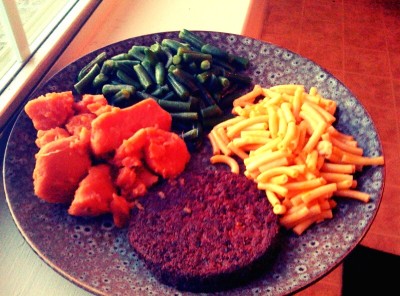 sweet potatoes, mac n cheese, veggie Pattie, green beans.
Have a lovely Monday night.
Do you set new goals every month, anything new for May?
No related posts.