Happy March
I tweeted for a couple days about my Birthday gift from my lovely boyfriend….a new cell phone.  I couldn't decided what phone to get, but everyone said "You must get the Iphone, you'll love it"…and so I did.  Have I become addicted to this device…just a tiny bit. I hope this will pass in a couple days as I'm realizing not every app can be added. I am happy to say my addiction only cost me $10, in apps/ring tones. It's better than the Itouch that I was gifted last year too. I gave the Itouch to my lil brother, since I see no reason to have both.
I'm sitting at my desk sipping on Hot Pomegranate Pizzazz Tea and playing on the Iphone.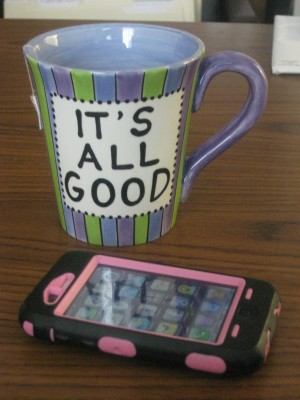 February Fitness:
My 28 days of fitness went well; I had been sneaking fitness in on lunch breaks at work. My gym is across the street which allows me 30 minutes to get on the tread and run. Working out pays off…I've lost 5 pounds and notice my jeans are looser.
Goal Accomplished!
Sad to say our laptop finally died the other day, right before I posted a new blog. My plan was to buy a new laptop next week, but I guess this week it will be shopping time! You can expect to see more posts early in the morning from work. Lol
I prefer Dell but Chris likes HP, any suggestions on a laptop brand? What do you have?
{ Comments on this entry are closed }