Dinner: Spicy, Cheesy Stuffed Pepper w/Rice.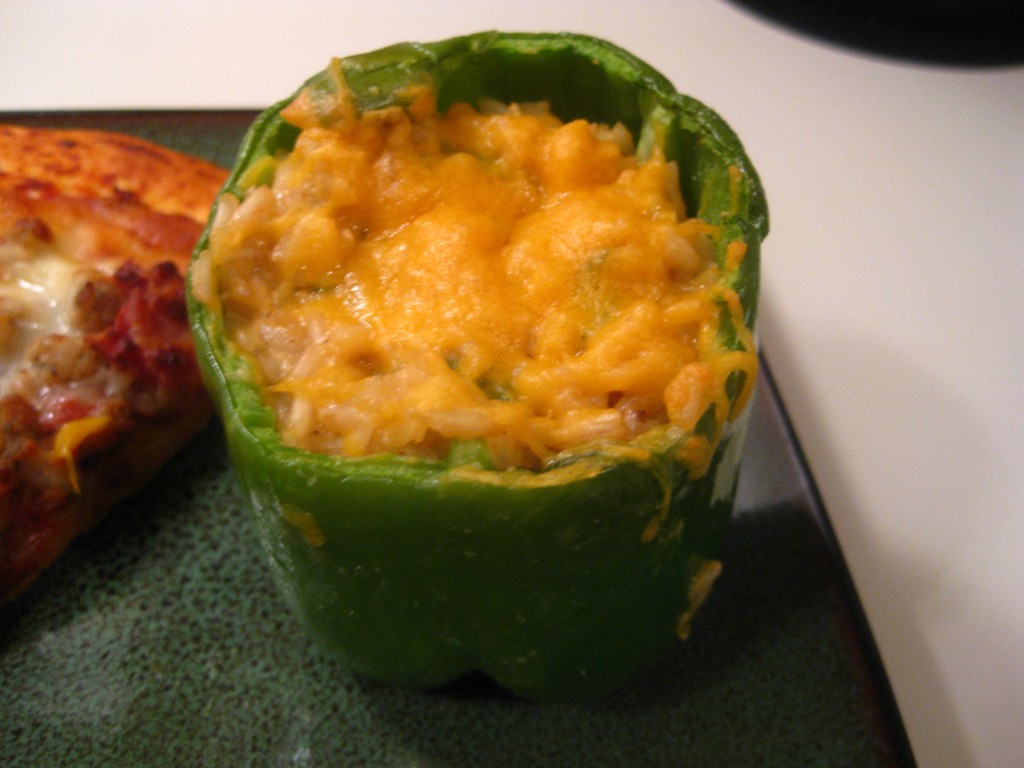 Sometimes, we all deserve a half-cheat meal…meaning the slice of pizza hiding in the back
(One cup of cooked rice, leftover homemade queso, onion and bell pepper.  Cook the rice then toss with spinach, onions and leftover queso, at 375 for 20 minutes. )
Too complete this half-cheat meal,  I happily drank a beer.  I'm a victim to the best Texas dark beer.
This summer I'd like to visit the brewery and sample every flavor they brew. My favorite thing about Shiner, is it's dark and nobody likes it but me…among friends.
I'd have to say these last two weeks have been crazy.  I've been having car problems and now my cellular phone is acting up.  Everything around me seems to be breaking and everything costs money to repair. Boo!!
On that note: Santa needs to bring me a new phone….plus that Garmin Forerunner305. I feel lost with a half-@** working cell…my lifeline to society!  I need that forerunner for this Half training too, let's not even talk about that craziness. There are so many training programs I've looked at and  my brain hurts. I've decided to stick with short runs during the week 3x and attempt long runs on weekends; cross-training every other day.
Anyone know of a "Couch to Half" Program out there?  kidding
Work is just as crazy too, with projects due and needy people all around. I wouldn't mind helping someone with things, but when they call in "sick" all the time, it gets old. Uhmmmm….
Lunch: Turkey Flat Out Wrap with light mayo and broccoli n cheese!
Breakfast: No Go,  I left my instant oatmeal and banana on the counter; running late for work.
PS. Here's a pic of the wedding cake,  Diana requested!  Stop by her blog too, one of my Texas girls representing the Central part of our great State.
"Let Them Eat Cake"
Sadly, I didn't think twice about cake, because I planned to run Sunday.  I did hear it was as good as it looked.
The Biggest Loser Finale is on tonight, 90210, then Bad Girls Club…Woohoo
Have a great night,
-Nicci

Do you give yourself a cheat meal/day and what's the best thing you indulge in… food wise?
**A girl has to indulge once in awhile!**
Related posts: