Happy to sleep in this Saturday morning and spend the day hanging out with the boyfriend. We have plans to lounge around and then do some apartment cleaning, followed by lunch somewhere around town.
I really wanted to try baked oats this morning, so I put together a delicious recipe.  Oats for myself and scrambled eggs with toast for Chris.
Strawberry Almond Baked Oats
Ingredients:
1/2 cup oatmeal
1/4 cup plain Almond Breeze
1/2 Tbs cinnamon
almonds
1Tbs Almond Butter
1 tsp agave nectar
1 tsp brown sugar
1 tsp chia seeds
Directions:
Preheat oven to 375
Mix all ingredients
Pour batter into mini casserole dish
Top with strawberries and blueberries and more almonds
Bake for 20 minutes
Dive Right In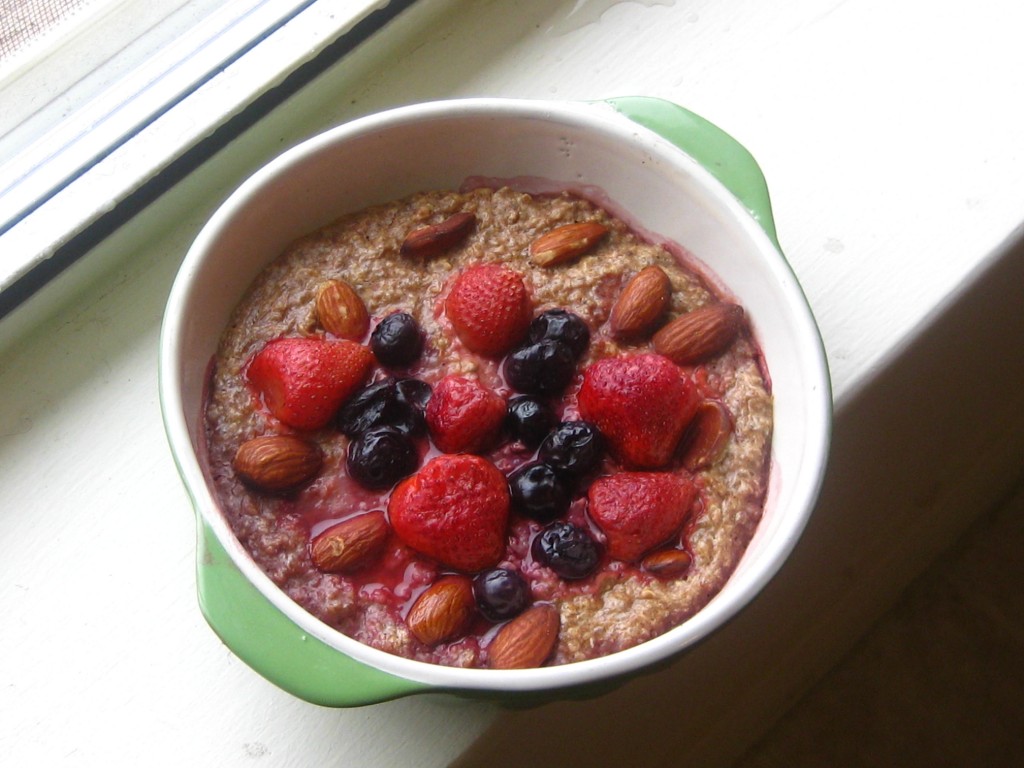 Giveaway Winner
The Winner of the new book by Sparkpeople.com "The Spark" goes to Morgan at "Live, Love, Eat and Play".
Congratulations!!
Morgan Says:
January 27th, 2010 at 6:06 PM edit 1
Remember-you can always do one more…one more step, one more breath, one more rep!
Please send me your address and I will send you this great book.

I hope everyone has a lovely Saturday.  Stay bundled up if it's cold where you live…it's freezing in Texas!