Finally after months of putting it off, I ran an official 5k!
I woke up bright and early to leave for my race; driving sucks especially when you take the wrong exit and you know where your going. I thank the sing-a- long I was having with the radio and not paying attention.  
No clue as to where my half functioning Polar watch…I had no watch to run with. Boo!  
I finished the 5k in 40:45:41  
Okay for a first 5k and weeks…cough. cough. of putting off runs.  Actually annoyed with myself about the time (just a tad). Knowing I could have pushed myself and gone harder. Thinking back to my high school & college track days, when I was a sprinter. Then again this is not sprinting…this is long distance and I'm still building up endurance.  
New Goals:  
Run 3x a week

next 5k under 35 minutes

Using couch to 5k app during my runs
Can you spot me in this picture taken by Kyra's hubby??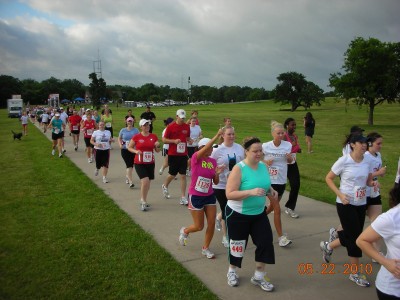 Definitely had a great race this morning with Kyra and can't wait to run another 5k.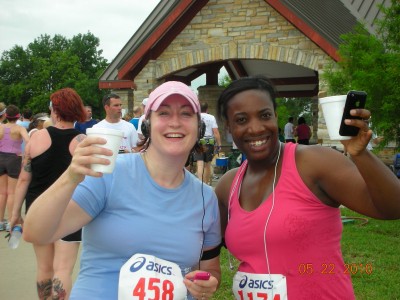 (pardon the messy hair and sweating)
Have a great Saturday.  
Chris and I couldn't make it to friends b-day at the Ballpark so we're going to a movie after he gets off from work?  
Anyone seen Iron Man or Robin Hood. decisions. decisions.
Related posts: