Guess whose in Texas for the whoooole week?  THENHEATHERSAID!
Heather (far right), Lauren (middle) and I got together for the Stonebridge Memorial Day Races (5k)!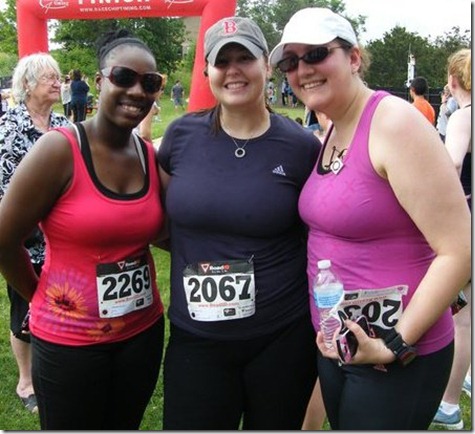 Wednesday night,  there will be a nice size blogger dinner with some more awesome ladies!
Body Confidence: I bought a two piece bathing suit this weekend to go swimming with friends (Sunday & Monday), to beat the Texas heat.  For the first time, in years I had little frustration finding a suit and kept all negative thoughts, out of my head….that's one Summer goal complete!
Other Happenings: The past month has been crazy for me. I was offered a new position at work. Go ME!  I am now a Case Specialist and I have one job, not two!  HALLELUJAH.  Now, I'm about to train a coworker for my old positions and continue training for the new one, and were on a short time schedule….crazy.
I'm also excited to see what the month of June will bring!
How do you stay active over a holiday?
Related posts: